If you are new to The Design Edit then I'm convinced you'll be delighted you've found it! You're welcome.
The online magazine has Carpenters' Workshop Gallery as its founders and is dedicated to limited edition, collectible design, particularly "glorious, curious, hybrid artworks – which are rooted in function but surprise, delight and challenge us like sculpture."
So, as you can imagine, Marc Fish was elated to feature in Claudia Barbieri's 'In the Studio', Read on:
Marc Fish: designer
In the Newhaven studio of furniture-maker Marc Fish, Claudia Barbieri discovers how the designer bends wood to his will.
 17th September 2019
ONE MIDNIGHT IN July, the SushiSamba restaurant at 110 Bishopsgate, high above London's financial district, closed earlier than usual and a team of workmen moved in. Taking infinite care they manoeuvred three intriguing objects, made from around 5,000 wood shavings layered and interleaved with resin, into the service lift that whisked them to the 39th floor of the building formerly known as Heron Tower. There, working against the clock with chronometric coordination, installers, electricians and riggers assembled the objects into a 2.5-metre-wide, light-emitting, revolving conch.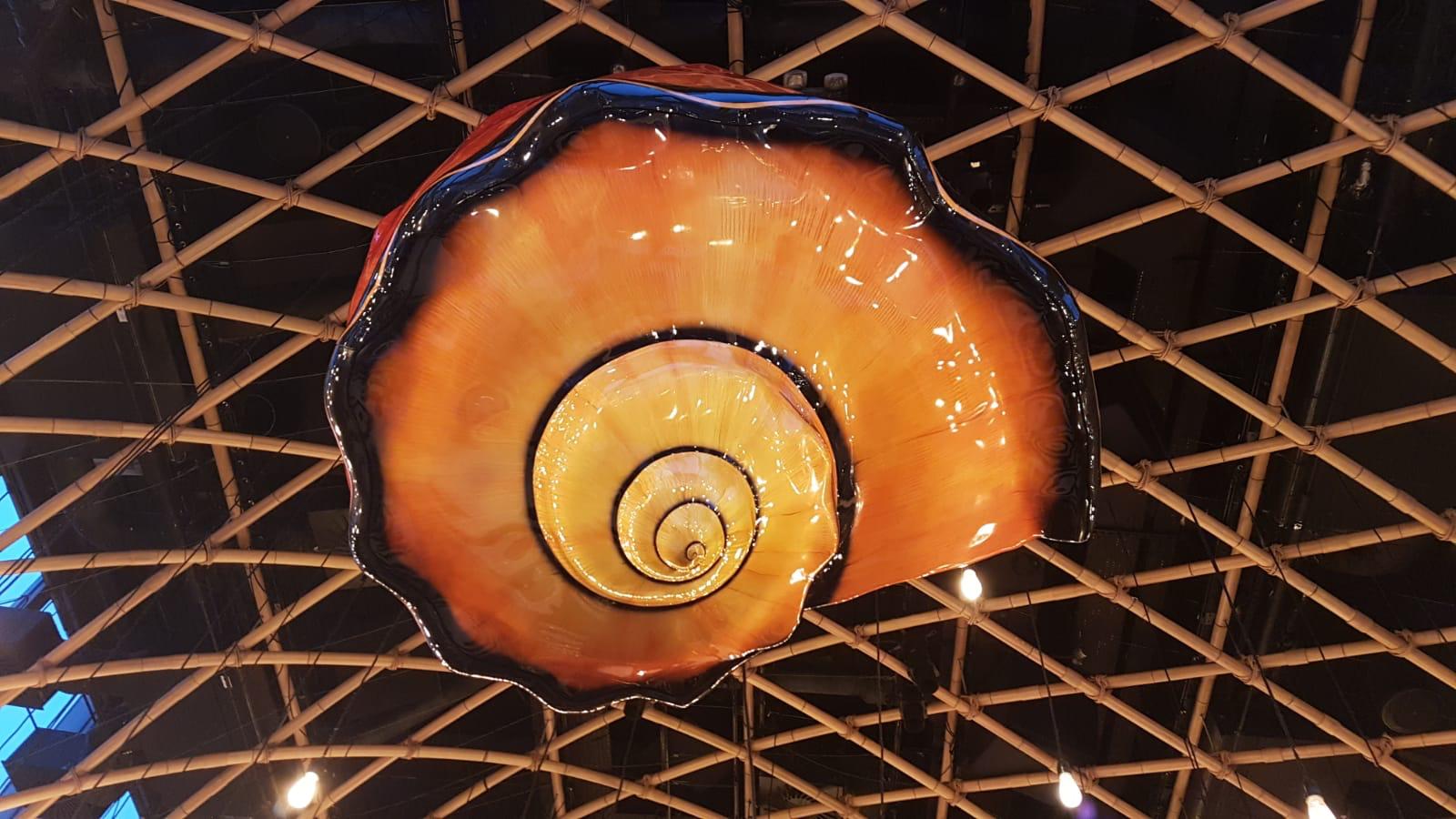 "We had to make the pieces the right size to fit through a metre-wide lift door – there was just 15 millimetres clearance," says the designer Marc Fish. "At 4 o'clock in the morning it was finally being winched into place, just as the sun was rising behind it." SushiSamba's marine mollusc is pure Fish: organic form; technical complexity; extreme precision and creative innovation. "It was quite a special night for us. The restaurant opened at 10 am the next morning all cleaned up, almost as if we hadn't been there – except there was a large shell hanging from the ceiling," says Fish.
In the past ten years Fish, now 48, has emerged as a rising star of art furniture, with clients from as far afield as Hollywood queuing for up to two years for his creations – and international students flocking to learn his methods at the Robinson House Studio Furniture School. What attracts clients, students and design mavens is a particular fusion of traditional and high-tech craft skills, daring aesthetics and experimental materials science.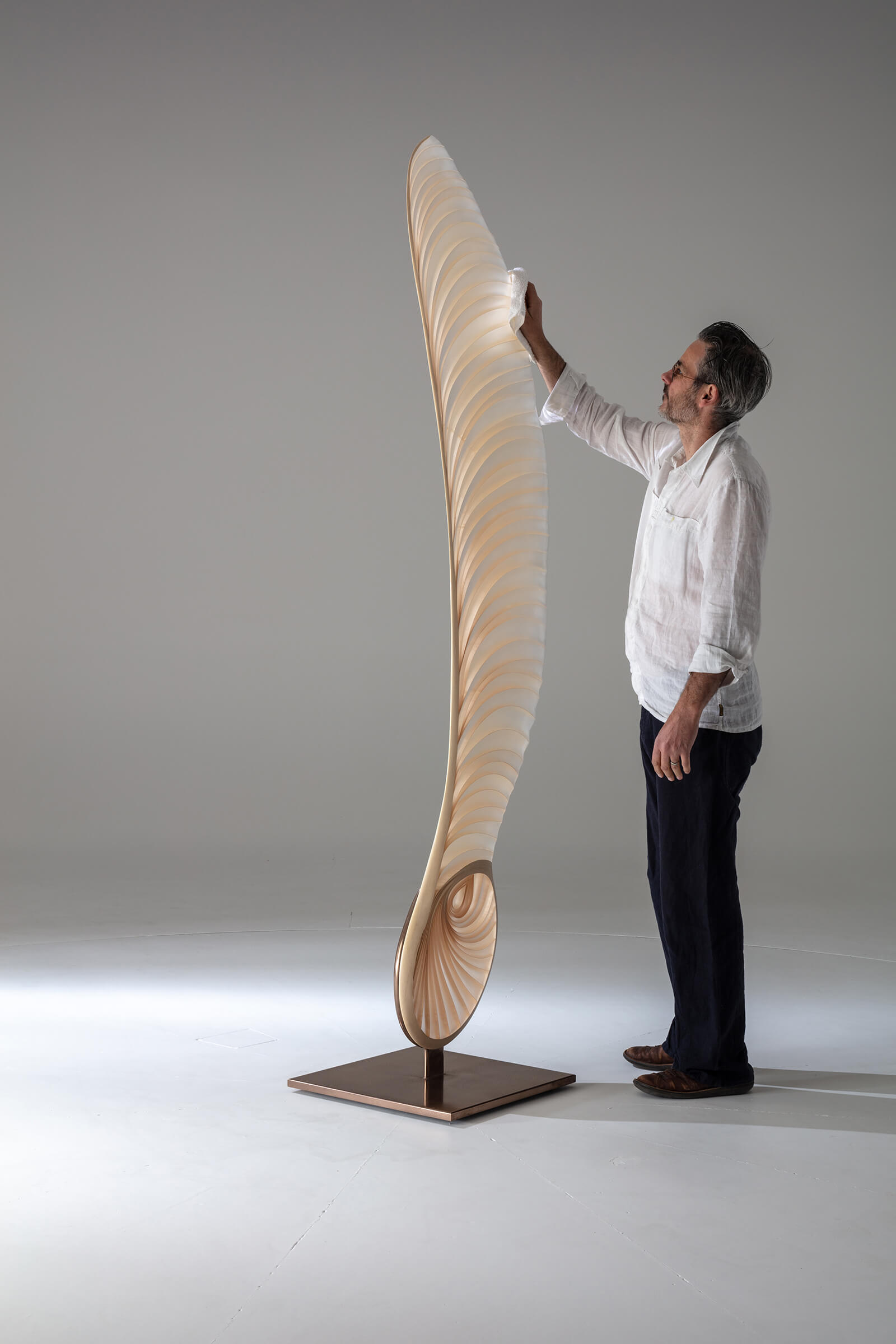 Despite his global status he still operates from Newhaven, a nondescript south coast port near Brighton with a tradition of furniture-making, where he first set up a studio cum workshop 22 years ago. Now, in an unpretentious single-storey backstreet shed, up to fifteen would-be cabinet makers at a time learn traditional woodworking skills under the eye of master craftsman Theo Cook (Fish's partner in the school, and a pupil of the 20th century British and American masters Edward Barnsley and James Krenov).
In the main workshop next door, three makers on a recent day are working on a mirrored pair of 'Ethereal' console tables – as well as a surreal seven-foot high armchair that Salvador Dali could have conceived for Game of Thrones. In his studio Fish lays swatches of ink from a broad -tipped pen onto a sheet of paper: calligraphic doodles that may germinate into an exotic new species of Fish furniture, or end in the waste bin.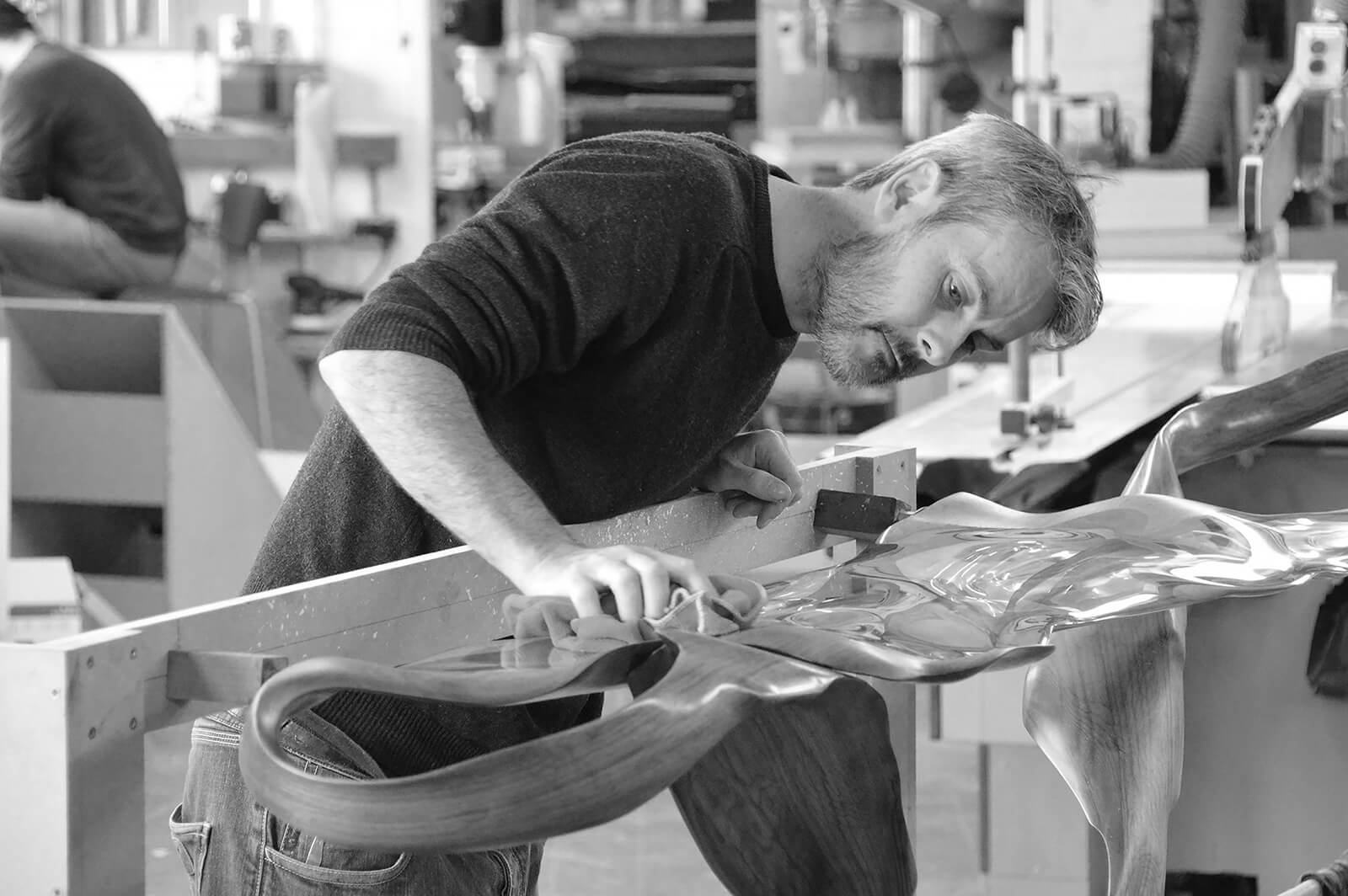 Furniture has function and Fish takes care to tick that box. An 'Ethereal' console table may swirl and curve but it's flat enough at its centre to hold a phone or a lamp; a 'Babel' drinks cabinet may look like a man-sized caterpillar's cocoon but, hinged open, it displays bottles and glasses. Still, what fires his imagination is form. "It's nice to make sculpture, and not to have practical limitations forced on you," he says. "Often you come up with a form and then you think, 'How do I make it into a table?' Almost as an afterthought, you put a glass top on it. I don't want to go down that route anymore. The reality is, a lot of what we do is sculpture."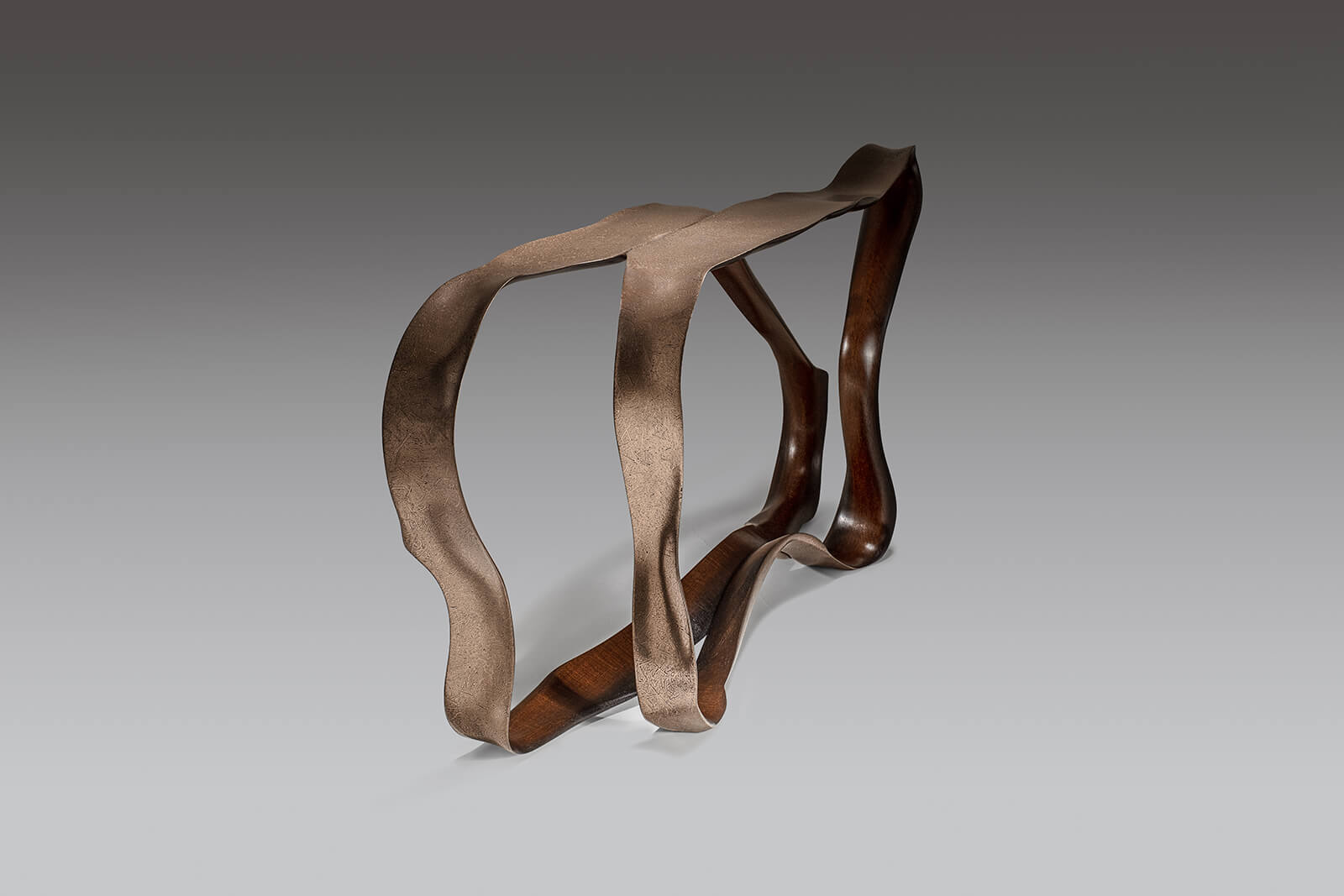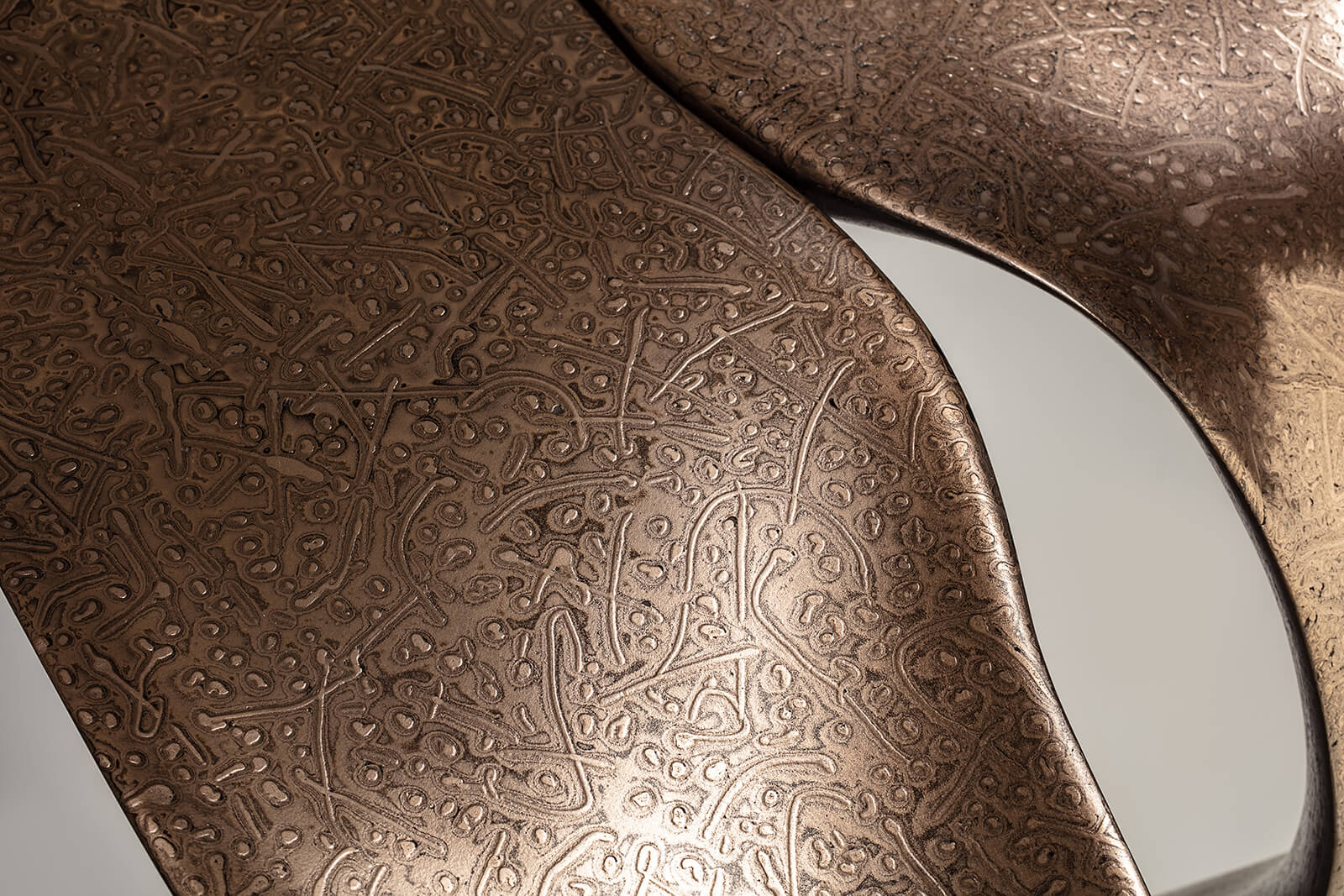 While his reputation has soared these past few years, his career path has been anything but linear: in fact it has been almost as sinuous as his signature style. Aged 14 he wanted to be an architect, but he left school at 16 and went to work in a bank for the next seven years. As a hobby, he started restoring vintage Porsche and Volkswagen cars – one of his restored VW campers was bought by the company for its museum in Germany. Then he turned his self-taught metalworking skills to making metal furniture.
For a couple of years he did well. "In 1998/99 we were selling work through three shops in Brighton," he remembers. "Then those three shops all went bust in three months. Taste suddenly changed. Metal furniture died a death, it was considered cold and sterile. Everybody in Brighton was getting into heavy, chunky dark timber furniture from Indonesia. Suddenly there were no more orders. It was pretty dire."
By then, the design bug was in his blood. Rather than dwell on the setback, he went with the flow and switched into wood. After studying for a City and Guilds furniture-making qualification, he trained for six months under the cabinetmaker John Lloyd in Ditchling – spiritual home of Eric Gill and the Sussex Arts and Crafts movement.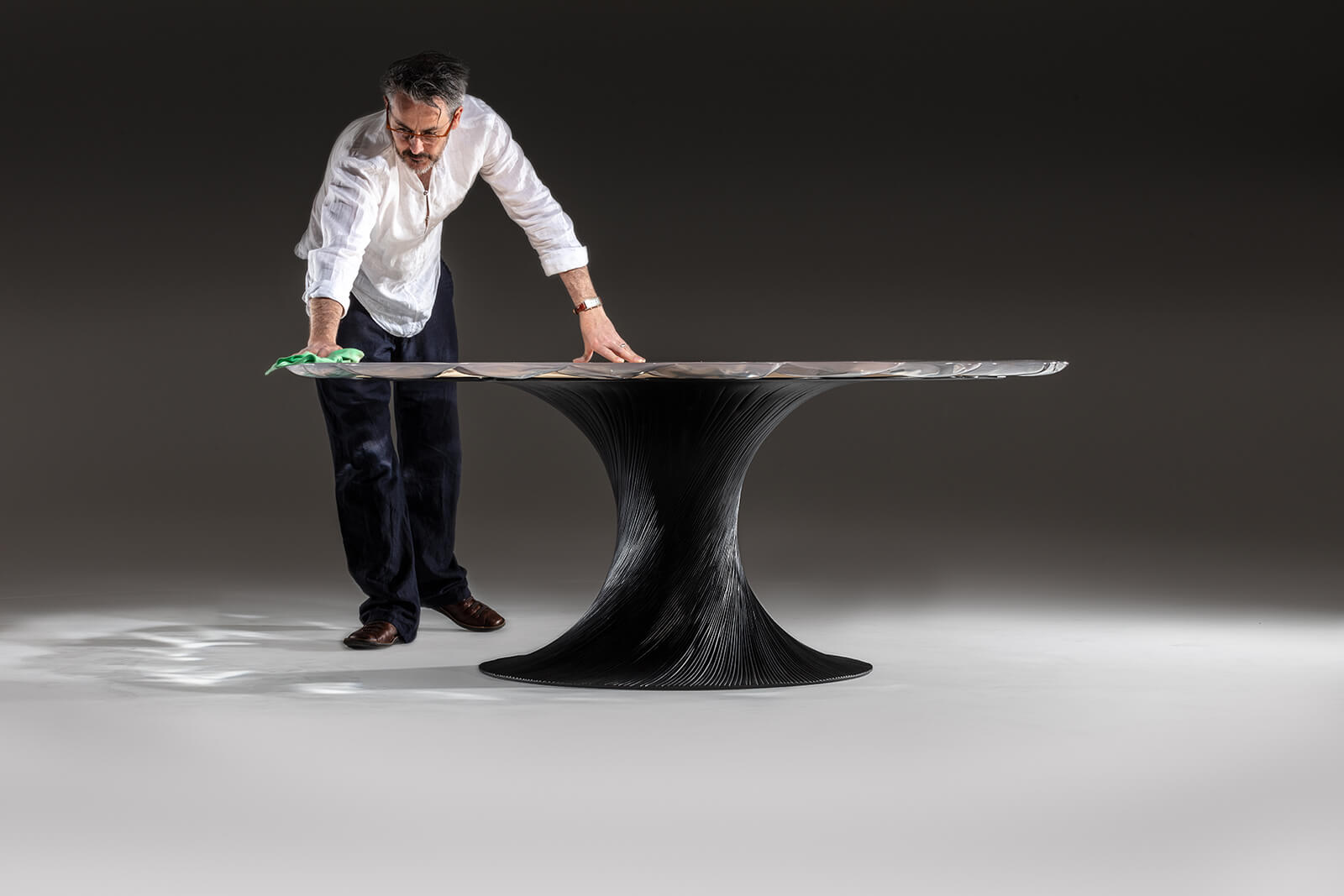 As his materials evolved, so did techniques and styles. The early metal furniture was, "more Bauhaus, more 1920s, art deco but a little bit contemporary." After learning to work with wood he spent several years making traditional joinery pieces. Then, in 2009, "I woke up one morning and thought, 'Why am I doing this? I don't like what I'm making. There's no creative outlet'," Fish remembered. So he decided to change direction.
He set up his school to earn a living from teaching the skills he'd learnt, and in parallel started experimenting with supple wood veneers. Bent into shape, stacked sequentially together, suspended in and bonded together with resin glues, the flexible slivers of wood lent themselves to naturalistic shapes. "I just fell into my design identity," he says.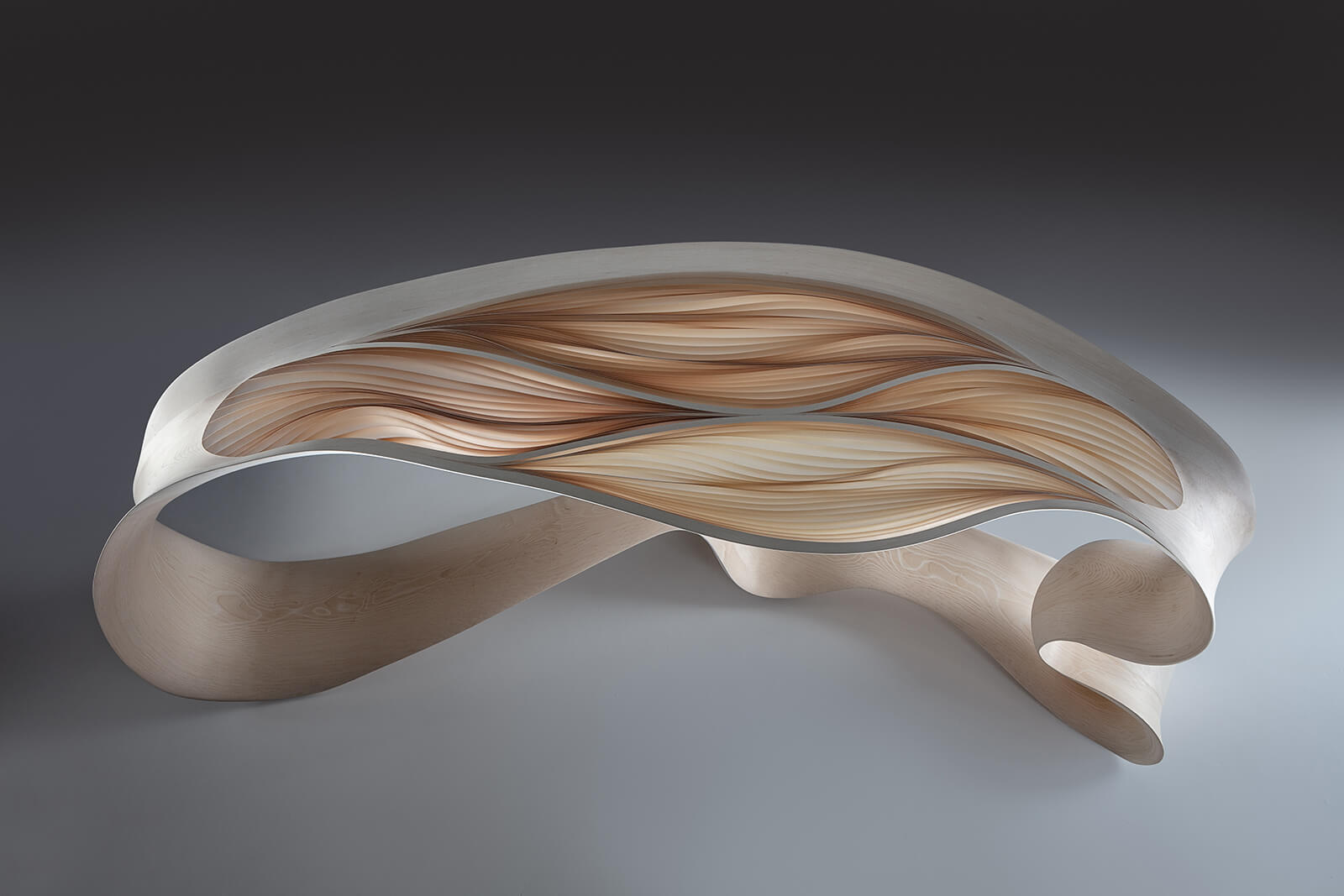 His first 'Nautilus' edition of tables, like the 'SushiSamba luminaire', was inspired by the Fibonacci spiral of a seashell. His 'Ethereal' range of desks and chairs draws on the lacy translucency of a skeletal leaf. Perhaps oddly, his own taste lies elsewhere. His favourite designer, he says, is the 1930s French modernist architect Pierre Chareau, a visionary pioneer of the use of mechanical engineering and heterogeneous materials. "I would like his aesthetic in my own home," Fish says. As for his own work: "I design furniture for a different market. I am not my own market."
Though his style may bring to mind the voluptuous ripples of Art Nouveau and the fluid idiom of his Irish contemporary Joseph Walsh, Fish denies consanguinity with either. Art Nouveau he dismisses as "almost treacly", and asked for historical role models he looks no further back than the last century, pointing to the pioneering work of John Makepeace and Wendell Castle.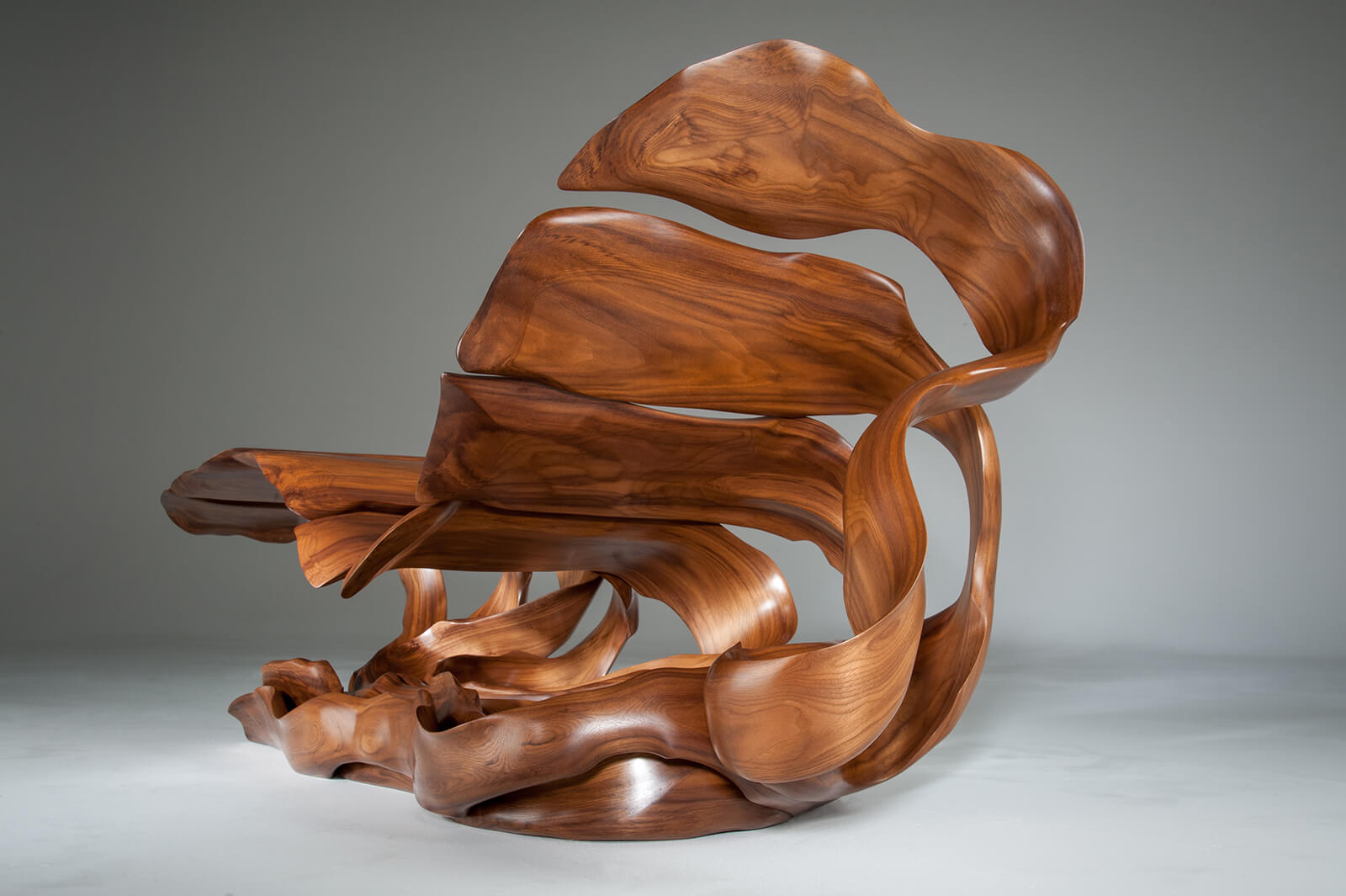 Walsh he respects; but for all the similarities of conceptual idiom, he says they inhabit different technical worlds. Where Walsh crafts his willowy structures from saw-cut 2-millimetre veneers, Fish works only with thousands of knife-pared veneers, each no more than 0.6 millimetres thick. The thinness of the wood allows it to be bent like paper, without steaming. It's a technique that he says allows a purer aesthetic. But it is also extraordinarily time-consuming, technically challenging and costly. The 'Nautilus' table was built from a stack of 4,000 veneers and took a thousand hours to make.
The translucent resins too, binding the veneers together into batches, are the end-product of a painstaking process of trial-and-error and materials-science research. "We've had five resins that we've used in the past four years," Fish says, "We've experimented absolutely to death. We've had a nightmare journey!" A big challenge is the way the resins react with the wood: to speed up production, the liquid resins are heated to harden faster, but in this curing process exothermic reactions happen that can suck air out of the wood and form bubbles in the resin. Flawed batches go into the bin. "It's taken us three years to get the technique right," he said. Everything he does is now made this way. A chair leg, for example, could be cut and shaped more simply out of solid timber, "but it's important to us that we keep the same narrative running all the way through our work," Fish says.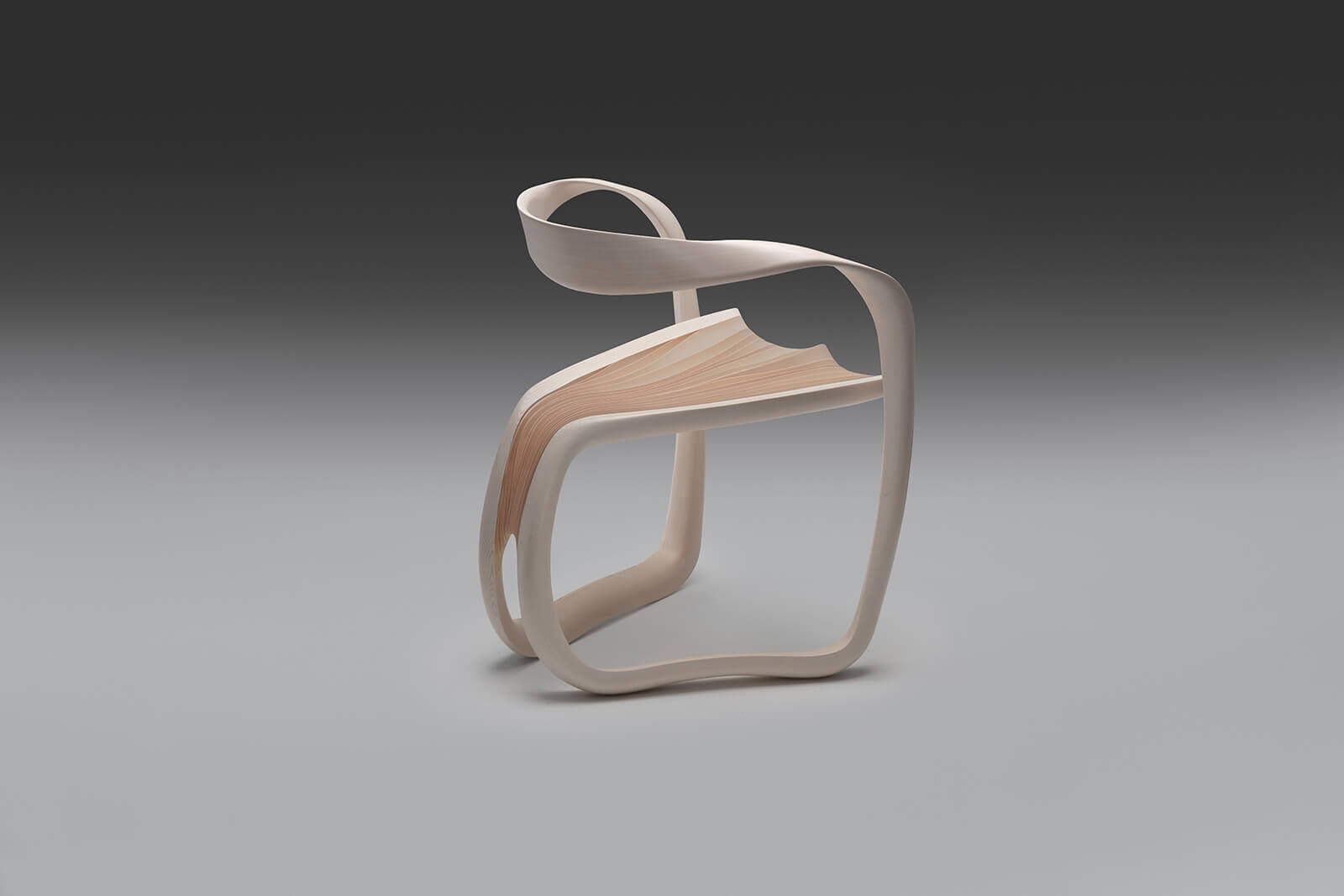 Still, narrative and aesthetic purity carry a cost. Though advanced industrial technology has its place – the workshop is equipped with a laser cutter and a three-D printer for mocking up prototype models – there's no economy of scale from batch production, no compromise on the individuality of every piece, the consideration given to every line and facet. Prices reflect this. The 'Nautilus' desk sold for £96,000, and the first 'Ethereal' desk (a translucent wisp of Sycamore veneer, resin and carbon fibre), was sold by Todd Merrill at last December's Miami Design for $130,000. Smaller pieces, such as the 'Ethereal' chair taking shape in the workshop for display at this year's PAD London in October, will be priced nearer £20,000.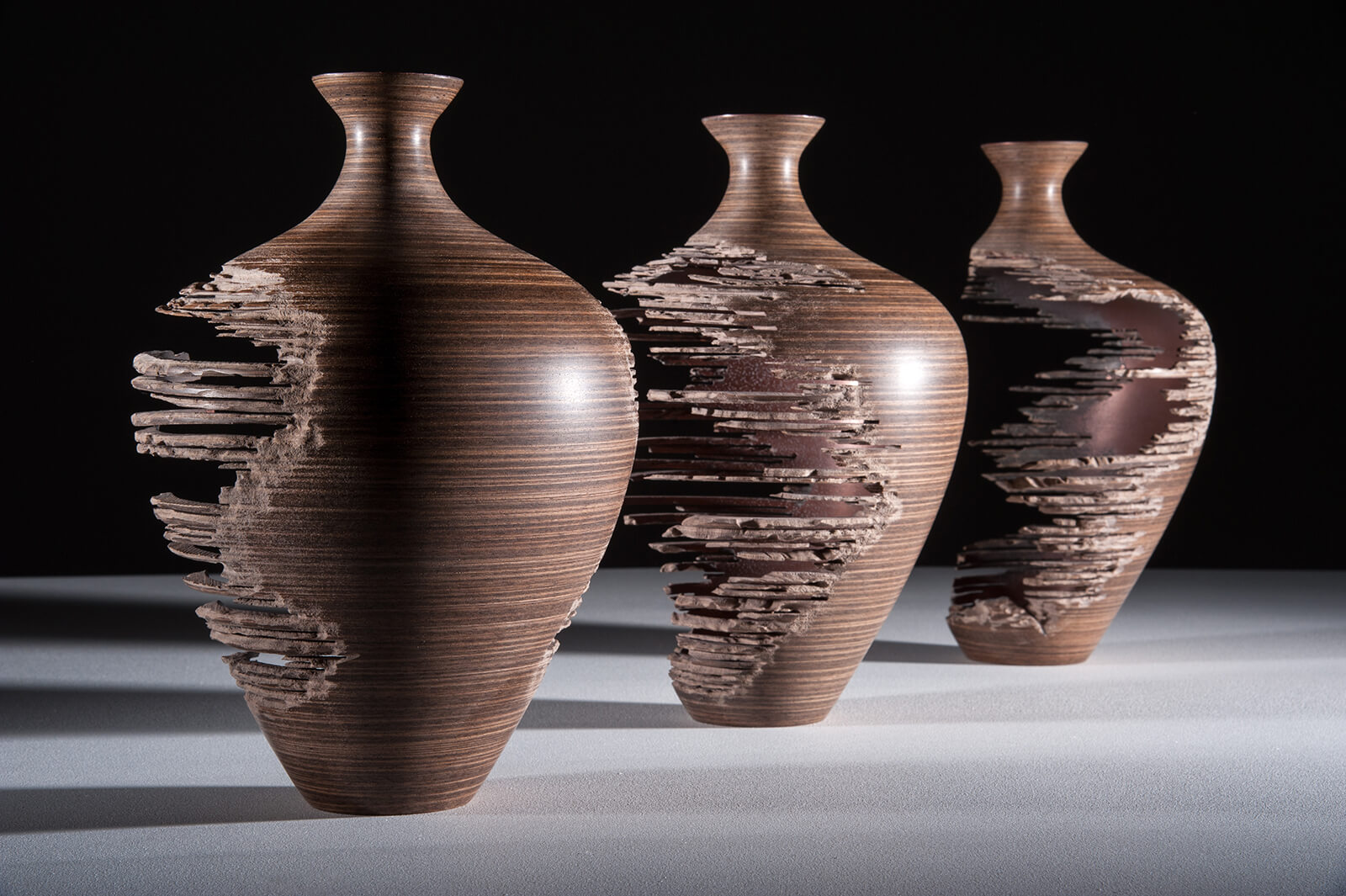 That may seem a lot for a chair, however exquisite. But take off the production costs and divide by the hundreds of hours that go into the conception, design and making, and it doesn't match the return on, say, a Jeff Koons balloon dog. On some of his smaller pieces, such as his intricately constructed memento mori 'Relic' vase series, the return on invested time comes in at about £30 an hour. Larger commissions are more profitable: Still, "I don't think anybody gets into furniture-making for the money," Fish says. "You get into it for the creative freedom that it gives you."
Marc Fish at work
This article can be found online here – https://thedesignedit.com/in-the-studio/marc-fish/
The Design Edit, Sept. 2019